Insights
Appstellar Updates
AWS Summit Berlin 2023 Key Takeaways
AWS Summits are a series of events that bring the cloud computing community together to connect, collaborate, and learn about AWS. As a proud AWS partner, it's an event we can't miss. So, this year, we attended the one closest to our home country of Kosovo - AWS Summit Berlin. Our CTO and CEO, Mehmetali Shaqiri, flew to Berlin to join the community, expand his knowledge, and share his extensive experience with other fellow cloud enthusiasts.
This year's summit featured keynote speeches from AWS executives, technical sessions, hands-on workshops, and opportunities to network with other attendees.
Over 100 sessions were offered throughout the day, covering a range of topics and technical depth. Attendees had the chance to learn about AI and machine learning, architecture, cloud operations, data and analytics, and some of our favorites DevOps and developer productivity, migration, networking, global infrastructure, security, serverless, and more.
AWS Housewarming Events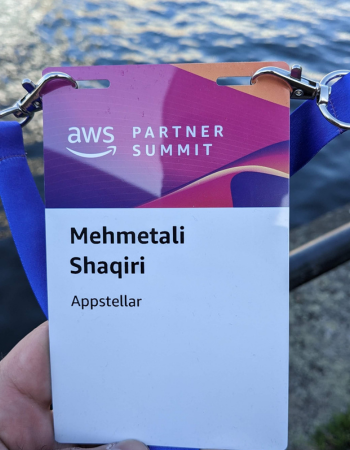 Prior to the summit, AWS threw a series of housewarming events to get attendees fired up and mingling with each other. It was the perfect way to kick off the festivities and set the tone for an epic summit.
AWS Partner Summit was an exclusive event that brought together AWS partners like us from all corners of the world. Partners shared best practices, exchanged ideas, and explored new opportunities for collaboration. Attendees got the chance to hear first-hand from AWS executives, participate in informative breakout sessions, and learn about new AWS products and services.
The Keynote
The summit kicked off with a highly-anticipated keynote session featuring Kevin Miller, Vice President and General Manager of Amazon S3 and AWS customers. Miller and other speakers, including Florian Hartwig, Julie Kratz, and Hanna Hennig, dove deep into the latest advancements in infrastructure and analytics. They showcased how AWS is empowering companies of all sizes to achieve their goals faster, unlock new opportunities, and shape a brighter future. They also explored cutting-edge technologies such as machine learning and serverless computing, which are revolutionizing industries as we speak.
But the keynote wasn't just about buzzwords and fancy tech. The speakers shared real-world success stories, highlighting how AWS is driving real-world impact and helping businesses stay ahead of the curve. From startups to established enterprises, the keynote provided invaluable insights for everyone.

A Daytrip into AWS World
The AWS World section of the event provided an opportunity to meet with AWS teams, experience expert demos, and chat with peers and other tech enthusiasts. Attendees were also able to ask an AWS expert questions in a 1:1 setting and connect with exhibitors in the Partner Expo to learn how they can support their cloud journey.
For those interested in a hands-on experience, the AWS DeepRacer League was one of the highlights of the event. Attendees were able to compete in a global racing league, putting their machine- skills to the test.
On another note, AWS Training & Certification was also available on-site, allowing attendees to get trained by AWS experts, expand their skills and knowledge, and build their future with AWS Cloud.
As an AWS Partner, Appstellar is always looking for ways to stay up to date with new technologies so that we continue driving real-world impact with our solutions. The knowledge and connections we gained at the AWS Summit will be invaluable as we continue to innovate and grow. We look forward to putting to use the new insights we gained and adding even more value to the work we do for our clients. Check out our AWS Cloud Consulting page for more info on how we do AWS Cloud strategy, migration, security, and optimization.