Insights
Cloud
Project-Based, Dedicated Team, or Staff Augmentation — What's the Difference?
Understanding Software Outsourcing
1. Project-Based Collaboration Model
2. Dedicated Teams
3. Extended Teams
How to Choose an Outsourcing Partner
So, What is the Takeaway?
Ready for Cloud Solutions Implementation

by experts?
Sometimes even if you have a million-dollar idea for a software product or service, when you lack the resources to bring it to life, your million-dollar idea will remain simply an idea.
Thanks to the growing market of software outsourcing, chances are you will find all the resources you need outside of your company to meet your internal goals.
Understanding Software Outsourcing
Outsourcing is a model that many companies use. It's a rising market of $92.5 billion expected to increase at a 4% compound yearly growth rate between 2021 and 2025. IT services are among the most outsourced tasks, with a 37% market share.
Software Outsourcing is a way to benefit from the expertise of another team or individual expert. It allows you to develop your project with better scalability and flexibility, as well as increased efficiency and security at a lower cost than hiring someone in-house.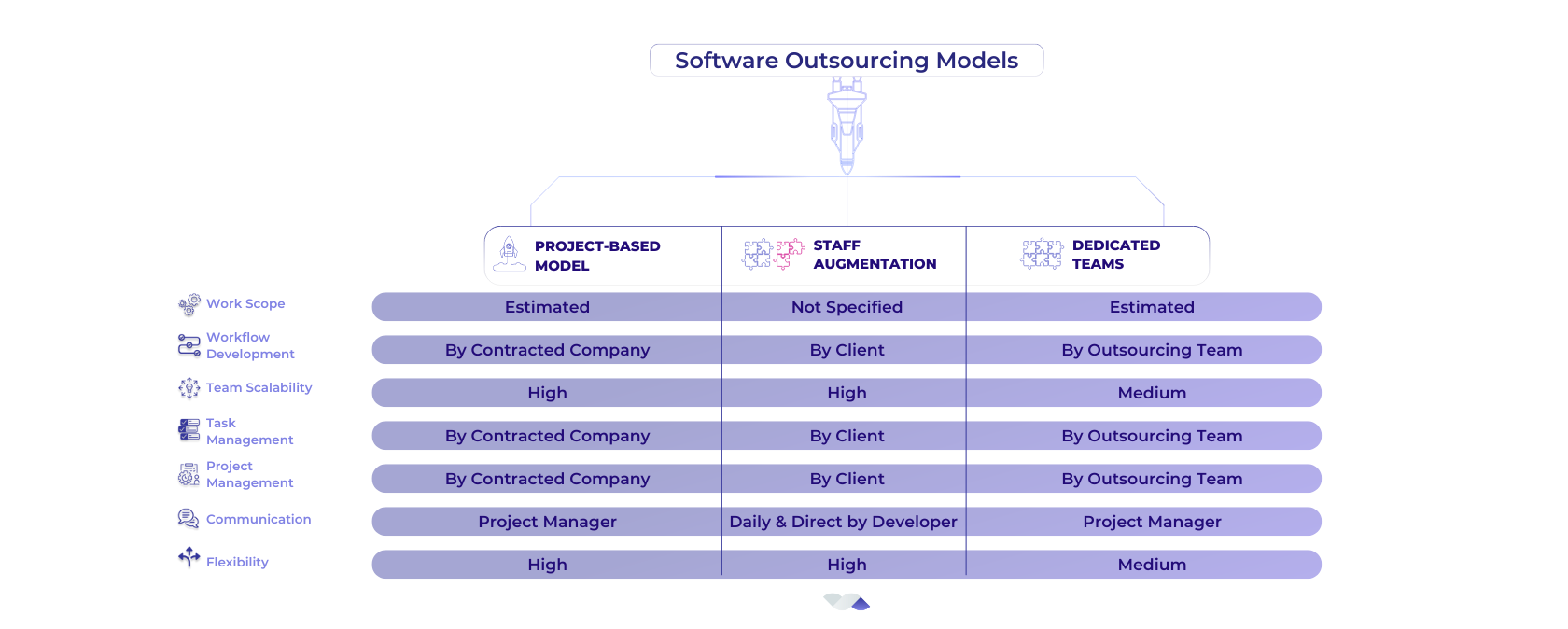 Based on your company's needs and your project requirements, there are three software development collaboration models you need to know.
1. Project-Based Collaboration Model
Project-based collaboration model is an outsourcing model where you let another company fully take care of your project. You give them your requirements, and they implement everything at a fixed cost.
The Project-Based Model is right for you if…
…you don't have an internal development team.
In this case, outsourcing a development team that builds your project from scratch and monitors it after deployment is your best choice.
Companies that offer project-based collaboration models are specialized in specific areas and have dedicated software development teams that work together towards your goals.
Project-Based Model Benefits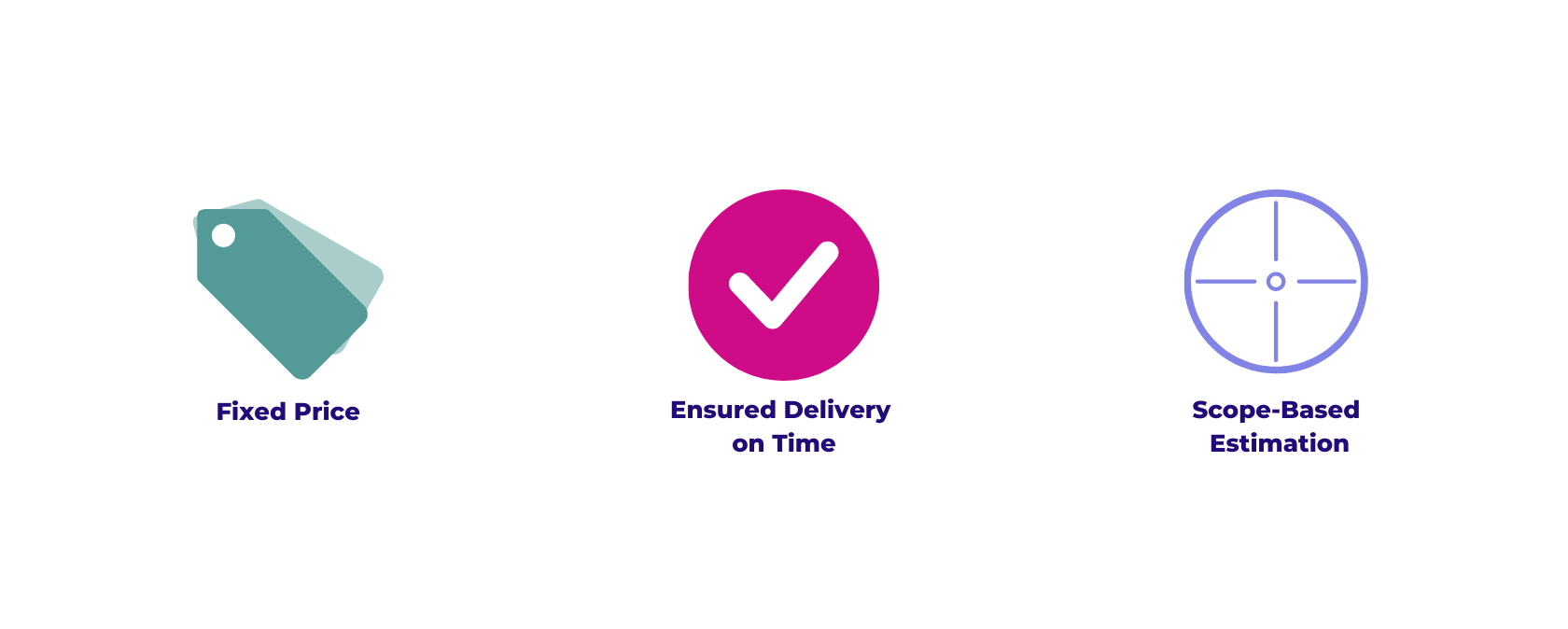 The project-based model means scope-based estimation and ensured delivery of your project on time for a fixed price.
2. Dedicated Teams
The dedicated team model is a collaboration model where the outsourcing company carefully chooses a team of specialists to work full-time on your project exclusively. Since it's a team that already works together in-house, dedicated teams allow you not to worry about team cooperation or trust. Another perk of dedicated teams is that you won't have to deal with paperwork, such as taxes, HR, and social benefits. The outsourcing company handles it while you pick the brains of professionals and have complete control over your project.
The Dedicated Teams Model is right for you if…
…you are a startup, don't have time to hire an in-house team, or simply want to cut costs.
Hiring an in-house team can be expensive, stressful, and can take a lot of time. You have to go through each candidate, consider their pros and cons, make an offer, finalize it, and lastly, make sure each and every one is 100% fit for the project you're working on.
Dedicated teams, on the other hand, are experts carefully selected by your provider to work on your project. They are 100% fit to work and meet your goals.
Dedicated team model benefits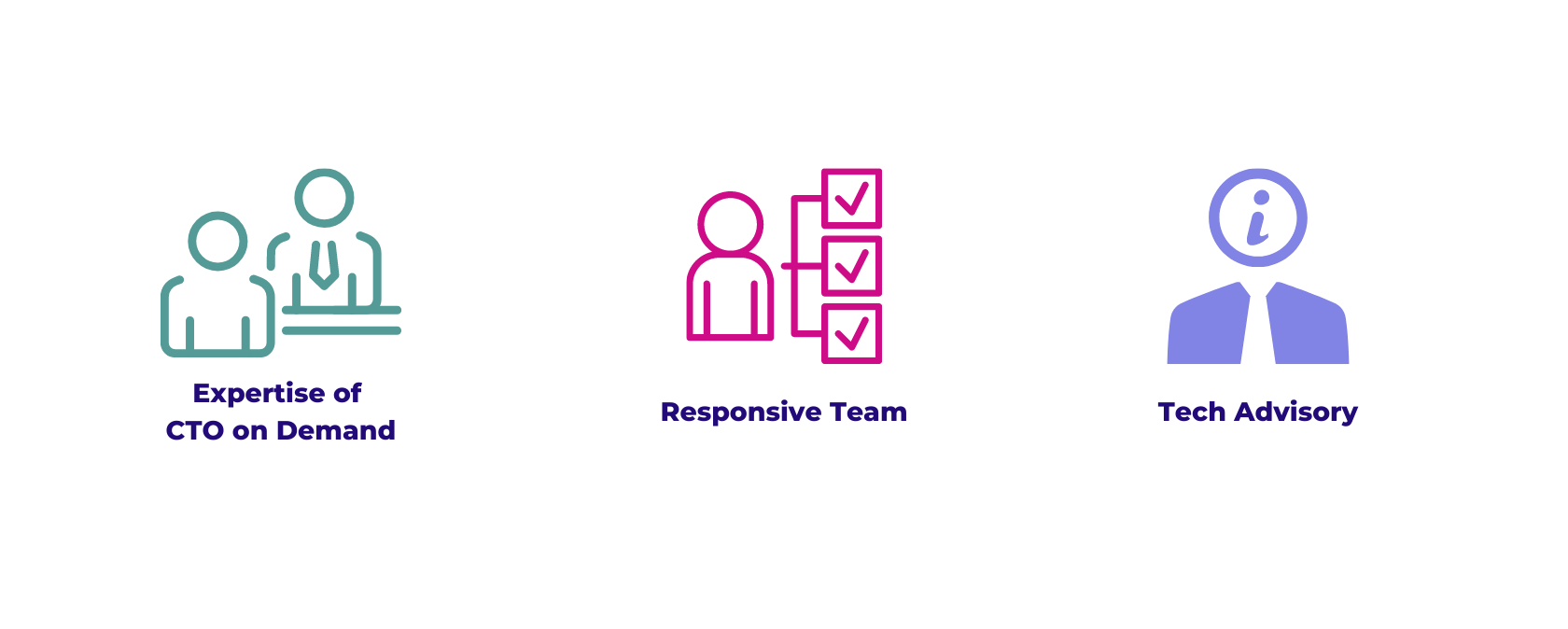 The dedicated team model means having the expertise of the CTO on demand, along with tech advisory and a very responsive team.
3. Extended Teams
Extended teams, otherwise known as staff augmentation model, is a collaboration model that companies use when they don't have time to hire an in-house expert to fill high-level positions where they lack expertise.
When we provide staff augmentation for our clients, we like to share a few profiles of who we see fit for their project and let them decide on who they want to work with. After our clients decide on that, our staff serves as in-house employees until the project is finished.
The Extended Teams Model is right for you if…
…if your company lacks expertise in some areas and needs someone to complete specialized tasks in a short time. Extended teams are also a great fit when you need additional labor resources to streamline and speed up the development process.
Staff augmentation model benefits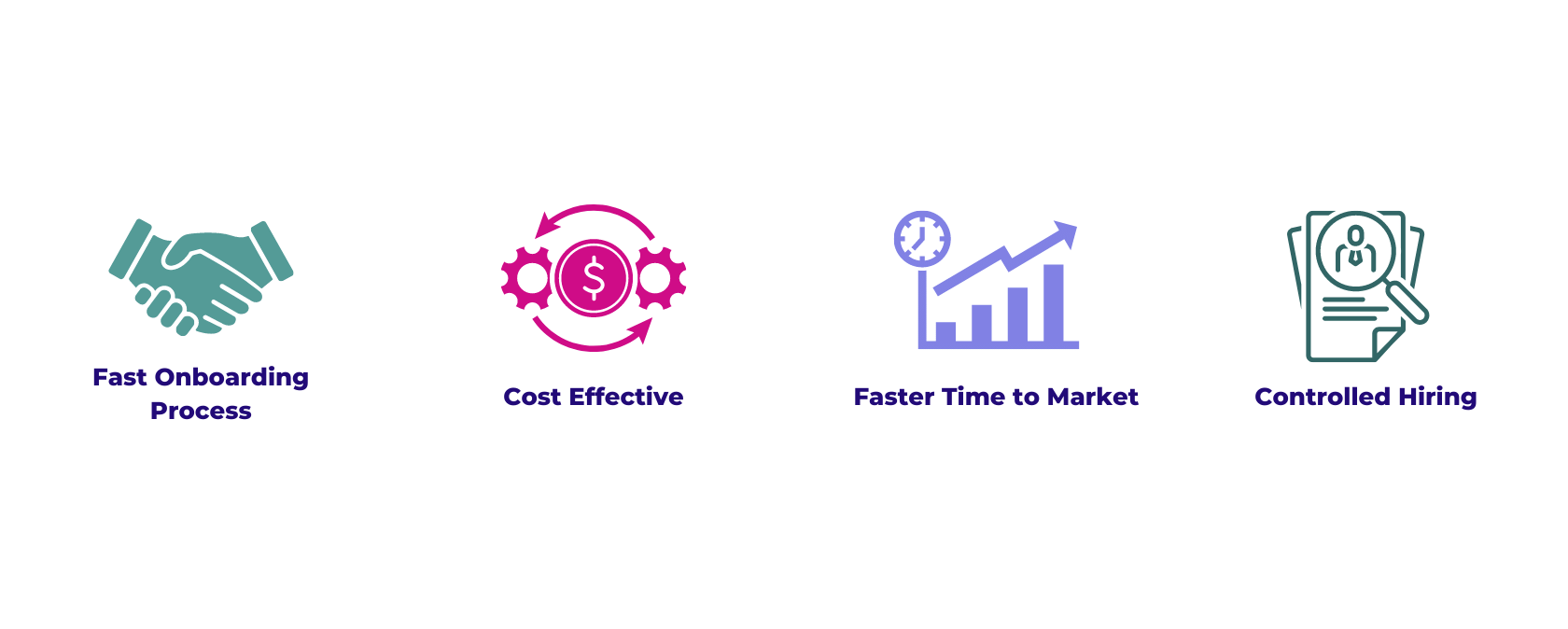 Staff augmentation model means controlled hiring, a fast onboarding process, and a faster time to market for a lower cost.
How to Choose an Outsourcing Partner
When you consider hiring an outsourcing team or contractor for your project, keep in mind to choose a credible company. Aside from having the expertise your project needs, what's also a bonus is if they are partners or certified providers of leading companies in the industry.
As AWS partners and Kubernetes Certified Service Providers, Appstellar has a team of certified experts that are ready to jump on projects and take on new challenges.
So, What is the Takeaway?
IT outsourcing as a working model is used by 92% of G2000 companies and 90% of businesses consider cloud computing a key enabler for their outsourcing initiatives, according to a Global Outsourcing Survey.
With that being said, outsourcing is a great way for your company to attain talent outside borders, lower operational costs, keep your focus on core business areas, streamline operations, and increase efficiency for time-consuming tasks while benefiting from the expertise of external talent.
While there is no doubt that outsourcing is a beneficial business strategy, when deciding which model is best, that's a question up to you to answer. It all depends on what your company needs.
As for Appstellar, we are quite flexible when it comes to collaboration models. So, if you're still unsure which one is for you, our team is more than willing to jump on a call and help you find the one that best meets your company's needs.
Artiola Fejza
Growth Associate
Artiola is our outgoing stellar with a special love for yoga, dogs, and content creation. She is certified by HubSpot Academy for her Content Marketing, Digital Advertising, and Inbound Marketing skills.